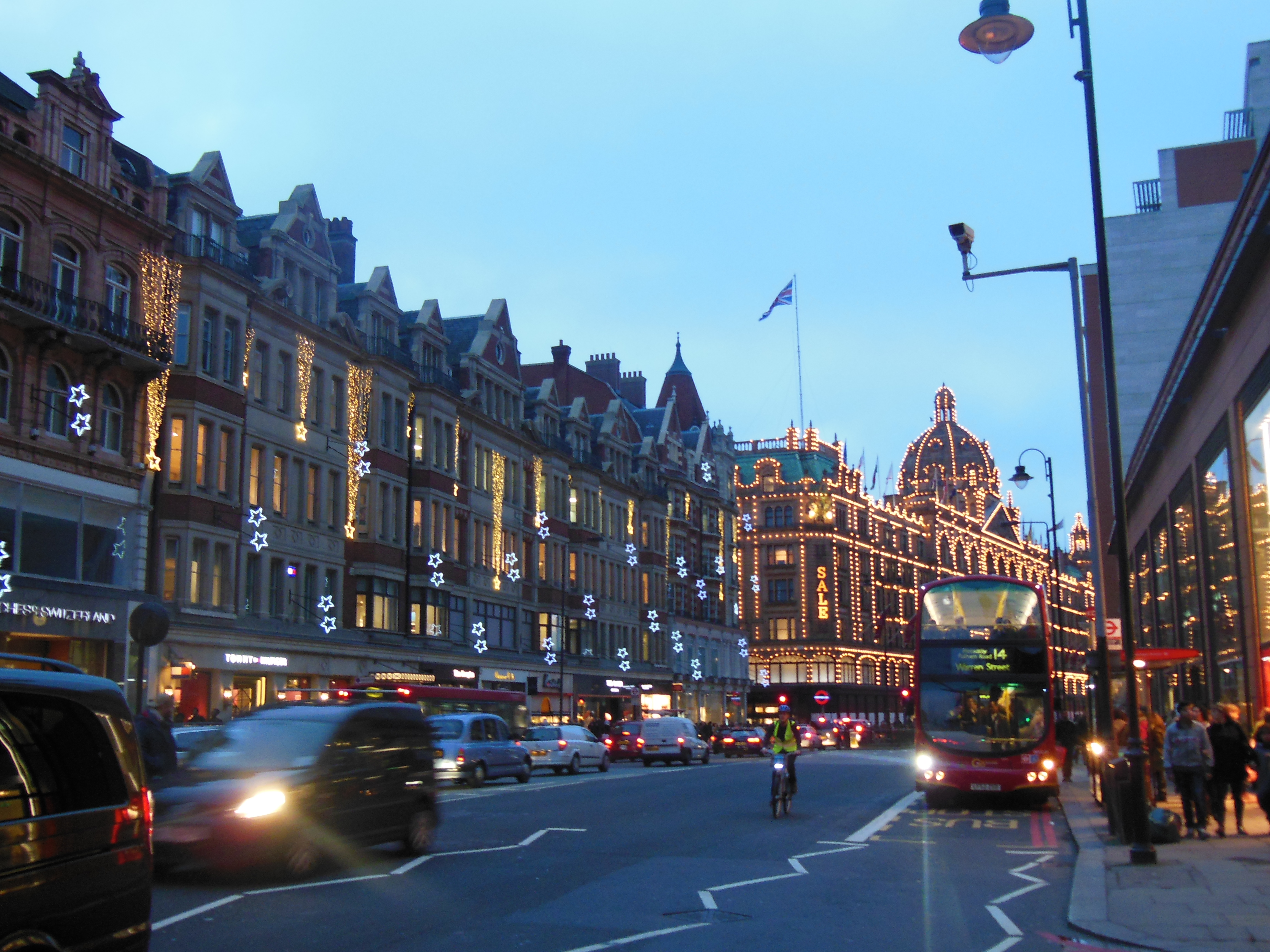 London is simply sublime at Christmastime. It's Christmas party London-style season, November through December. There's London Christmas lights and many Christmassy experiences. Here's a few things you shouldn't miss:
Christmas party London
You can go to hotels, clubs, bars, markets – just about anywhere for a Christmas party London experience.
We were lucky enough to be invited over to Camden for the launch of FEST's Christmas party London events. Take a look:
More places to relish in London's Christmas spirit: 
Harrods Christmas Grotto
Knightsbridge tube
A Christmas escape for Children, that leaves parents free to also escape… to do some shopping! It's festive, magical and very Harrods. Various events happening throughout December. More at: harrods.com
Hyde Park Winter Wonderland and Santa Land
Marble Arch tube
This gorgeous, annual one-stop Christmas spectacular includes rides, circus-like attractions, markets that sell sweets, Christmas treats and traditional German crafts and of course an ice rink. More at: hydeparkwinterwonderland.com
Westfield ice skating and grotto
Shepherd's Bush tube / Stratford tube
There's nothing that feels more like Christmas than spending a day in the warmth, shopping at Westfield London or Stratford City. Santa's in store too, and there's an ice skating rink – makes for a wonderfully spirited day out.
Southbank Centre Christmas Market and Winter Festival
Waterloo tube
A traditional German-style wooden hut market along the river – so charming! Toys, gifts, food, drinks – internationally inspired. Also features the Designers Makers Christmas Market, with over 50 British designers selling jewellery, ceramics, textiles, homewares and prints. More at: southbankcentre.co.uk
A Covent Garden Christmas
Covent Garden tube
The historic market piazza plays host to innovative digital installations, a super-sized LEGO snow globe, entertainers, festive lights and displays. More at: coventgardenlondonuk.com
Christmas Arcade at Somerset House
Temple or Covent Garden tube
The divine Somerset House's West Wing overlooks a lavish ice skating rink, and the setting features a Narniaesque corridor bedecked in lights and foliage. Dozens of airy rooms are occupied by pop-up-shops with an emphasis on British-made wares, so you'll find the likes of Brora cashmere, Murdock grooming products, BoBelle London bags and leather goods.
Harry Potter Walking Tour
Indulge in a magical Hogwarts Christmas with a guided walking tour (also includes a boat ride) that takes you through Leadenhall Market and other Potter filming locations.
Christmas at Kew Gardens and Hampton Court Palace
Richmond tube
Christmas at Kew Gardens is family friendly in a magical woodland setting, includes a Victorian carousel and vintage rides, Santa's grotto, boutique Christmas market and live music. Over at Hampton Court Palace, Henry VIII's favourite 'haunt', not to mention a fabulous place to visit, there's a divine ice skating rink in the front courtyard.
Christmas lights in London
Christmas lights by night
Famous throughout the world, each year there is a different theme throughout the city's festive streets. Brave the chill and jump on an open bus sightseeing tour during the evening, taking in all the classic sights including Harrods, Oxford Street, Piccadilly and the Tower of London all dressed up in their Christmas finery.
Where to stay: The Wellesley, for a little Christmas luxury
Bathroom Copy
Crystal Bar Copy
Penthouse Lounge Copy
Oval Restaurant Copy
Afternoon tea Copy
Welcome Copy
Churchill Suite Copy
Jazz Lounge Copy
Exterior Copy
The Wellesley is set within prestigious Knightsbridge, and provides easy access to all the Christmas experiences listed above, and much more. It is not yet a year old following extensive renovations which transformed the property from musical venue to luxe townhouse hotel. Gatsbyesque glamour sets the tone, and this boutique property is worth the dollar outlay if you're seeking luxury alongside unparalleled service while in London.
The Roaring Twenties carry on at The Wellesley through cleverly considered interiors like crystal chandeliers, original artwork, mirrored panelling and lavish cream and gold colour scheme. It's also a romantic building for anyone keen on being immersed in history − indeed it used to be the site of the original Hyde Park Corner tube station in the 1920s, and telling architectural signs are evident upon the exterior of the property and from within.
The Wellesley attracts a high calibre of clientèle, but is accessible for anyone seeking a night or more of pure indulgence. The hotel is conveniently situated for shopping, up-market bars and a wander around Hyde Park. Beautifully restored in Art Deco style with a contemporary twist, The Wellesley is a feast for the senses, offering the discerning traveller copious luxury surprises and outstanding personalised service.
What we loved!
Live jazz that was in the hotel's divine Jazz Lounge which boasts brilliant acoustics thanks to the venue's musical roots.
The delicious cocktails on offer in the Crystal Bar.
The beds!
Marble bathrooms and Hermès toiletries.
Courtesy Rolls Royce chauffeur service.
Fast, free WiFi and dozens of free movies available on-demand.
Dining and recreation
The Wellesley features several spaces for indulging, including the enthralling Jazz Lounge with its grand piano centrepiece; the award-winning Crystal Bar which boasts a large selection of fine cognac, champagnes and whisky, and the opulent Oval Restaurant where a delectable Italian-inspired menu is on offer.
Best room
The spacious 4-bedroom penthouse set across levels six and seven, with scenic views of Hyde Park, and featuring heated marble floors, heavenly bathrooms, balconies and a fire place.
The Wellesley, 11 Knightsbridge, London
Hyde Park Corner tube
thewellesley.co.uk
Do you have a Christmas experience tip for visitors to lovely London? Let us know in the comments
More Christmas
One of our favourite Christmas experiences was at the Cologne Christmas markets in Germany. Take a look around for yourself