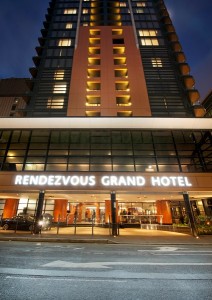 There's nowhere more central to stay than the lovely Rendezvous Grand Hotel. It's one of those properties that boasts two critical home-away-from-home elements − homeliness and cosmopolitan style.
Friendly staff were consistently on hand to assist, and this continued throughout my entire stay. They were swift and helpful when I called for assistance to my room because there was an issue with the plug in the bathroom sink not raising so water couldn't drain, and were equally nice to me when they explained it's one of those you simply push down so it pops back up. Blonde moment.
I was pleasantly surprised by the fact that each time I exited or entered the hotel I'd receive a happy, "Hello Miss, have a lovely day" − a touch that means that much extra when you're travelling solo.
It's true that first impressions count for a lot, and on setting foot inside this upscale hotel I was entirely satisfied that I'd enjoy my stay.
The foyer is elegant with chic mood lighting and comfortable spaces to sit and relax. Lounge 55 features prominently on this level too, and beckons with a tone that tempted me along these lines: "Hey, aren't you tired from that flight, would you like a yummy vino?"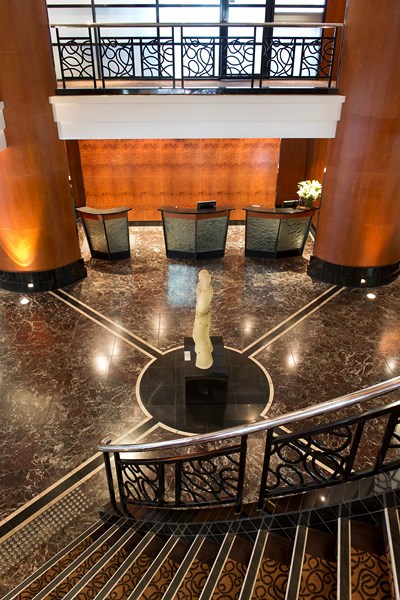 I was excited to discover my Deluxe King room was on level 17 (of 18) with sweeping views of the city which is equally as pretty day or night. The elevator reception areas on each floor are spacious and emanate class through sleek finishes and pleasing European-style design.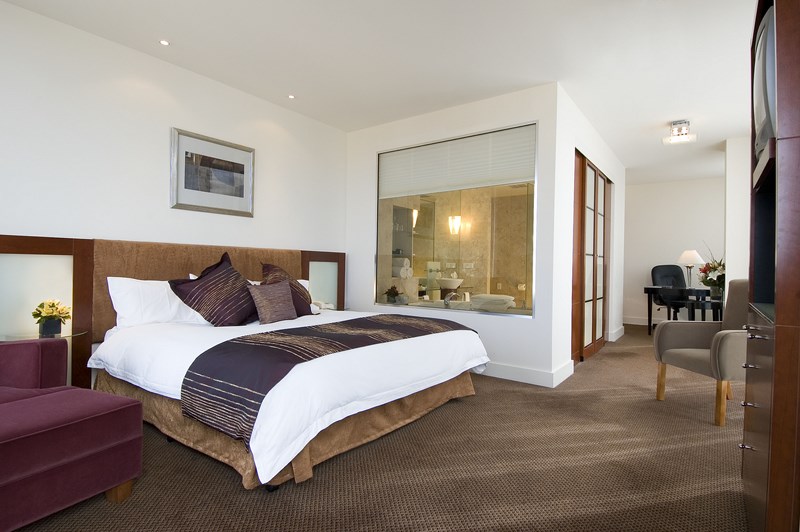 The most important aspect of any hotel are its rooms, of course, and I loved mine. Sliding Japanese style doors lead to the wardrobe space and luxurious bathroom with oversized tub and French Connection toiletries. The bed was supremely comfortable and if you're like me and fussy about your pillow, there's a specialised menu available to suit all requirements. Floor to ceiling windows present the city in an alluring way, and when the curtains are drawn back the natural light really showcases all the pleasing elements of the room, including its modern spaces, reading/day chair, work desk, flat screen television and large bathroom.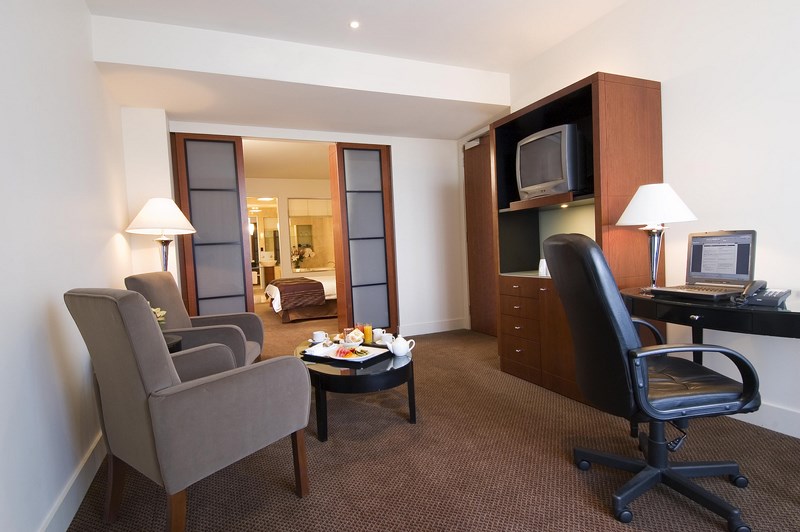 Further facilities you'll also love about this place include its gym, pool, spa and sauna; free WiFi, concierge service, business centre, the Straits Cafe which boasts a delicious modern Australian menu, and in-room dining which I can personally vouch for as being the perfect combination of a comforting guilty pleasure and excellent value for money.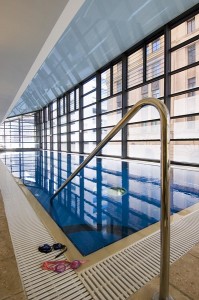 The Rendezvous Grand Hotel Adelaide (part of TFE Hotels tfehotels.com) is well priced for its pleasurable amenities and convenient location for business or leisure travellers. I was in the city to attend the Taste Australia showcase and #WordsToGo, presented in and around Victoria Square (close to the popular Adelaide Central Markets), and this property is literally four minutes walk from this precinct.
It also appeared to me to be pretty safe by day and night if you happen to be getting around on foot (which is likely as Adelaide is an easy walking city). Adelaide Convention Centre, Rundle Mall, the cultural boulevard of North Terrace, and popular Gouger and Waymouth Street restaurant precincts are all within walking distance of the hotel. You can also easily explore South Australia's famous Barossa Valley and McLaren Vale wine regions with a daytrip into the picturesque countryside.
It is easy to get to and from the airport − around ten minutes via car, taxi (approx $20 ride) or chauffeur service.
Where to stay in Adelaide
Rendezvous Grand Hotel Adelaide
55 Waymouth Street, Adelaide
Tel: +61 (0) 8 8115 8888
rendezvoushotels.com/adelaide
Want to take a look behind-the-scenes at Tasting Australia 2014 and cheese making with Udder Delights?