Australia has so many unique experiences, creating a bucket list is no easy feat. It's like choosing your favourite child, or finding free parking in Sydney. But someone had to do it, so Check-in.com.au has given it  ago, and shared with TLL.
The top things you simply must do in Australia
Visit Arnhem Land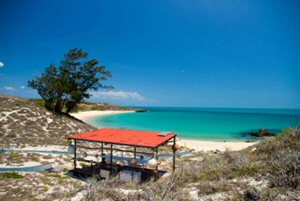 Made up of 91,000 square kilometres of tropical wilderness, Arnhem Land is as unspoiled and remote as you can get. Its small population is predominantly Aboriginal people, whose traditional culture remains largely intact, making it a huge tick on our bucket list.
Access to Arnhem Land is so restricted that only selected tour operators who have earned the trust of traditional landowners may bring visitors in. If you're looking for an even more exclusive affair, head to Bremer Island, 3.4 km off the north-eastern corner.
At Banunanu Wilderness Retreat (pictured), a sustainable resort with a maximum of eight guests at a time, you can join a private fishing charter. The pièce de résistance is returning to the beach restaurant made from driftwood where your catch of the day will be cooked for you.
Dive with great white sharks in Port Lincoln
C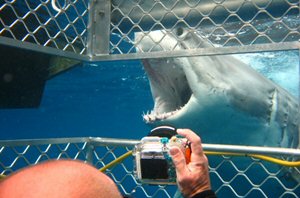 age diving with deadly great white sharks is not only thrilling, it has a 100 per cent non-fatality rate. Adventure Bay Charters or Calypso Star Charters run shark diving expeditions from Port Lincoln and they'll take you way out to sea to a location known for its abundance of sharks, sea lions and fur seals.
You can't do this on a whim, it's a full day out at sea and once Jaws is spotted, you'll be dropped into the ocean with nothing but a metal cage to protect you. If you really can't face the sharks, try the cheeky option of swimming with sea lions.
Cruise the Kimberley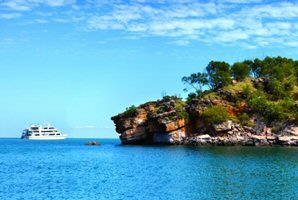 If the Kimberley isn't on your bucket list, then you're going to live a long and uninspiring life!
The region is often named amongst the top destinations in the world by reputable travel sources – and we are inclined to agree. It's one of the last true wilderness areas on Earth, with iconic outback landscapes which cover nearly 423,000 square kilometres in north WA.
One of the best ways to see the area is by cruise ship where you can get up close to the rocky shores and ochre-coloured gorges as they meet the lush waterfalls, breathtakingly blue waters and white sandy shores. Carved by millions of years of extreme tidal patterns, the coastline's complex river systems provide access to this contrasting scenery and make travel by small cruise ship the ideal way to explore the area. Award-winning Aurora Expeditions will take you there on a 35-metre luxury catamaran with just 44 guests.
Drive the Great Ocean Road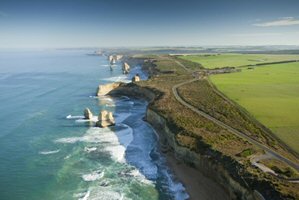 California has the Pacific Coast Highway, but in Victoria you can get your kicks on the Great Ocean Road. Hire a car in Melbourne and take a journey along the country's stunning south-east coastline. Drive through the iconic surf spots of Torquay and Bells Beach (this break should be on any surfer-worth-their-salt's bucket list), then onto the laidback town of Lorne and the spectacular Twelve Apostles.
Walk through waterfalls and lush forest in Otway National Park and watch whales from historic Warrnambool. For the 'well-heeled' traveller, consider the Great Ocean Walk, an eight day walk from Apollo Bay to the Twelve Apostles.
Special mentions: must do in Australia

We can't neglect: Camping on Fraser Island; Cruising the Whitsundays; Skydiving above Byron Bay; Learning to surf at Bondi Beach; Taking a journey on the Ghan; The Great Barrier Reef in Cairns.
What's on your 'must do in Australia' bucket list? Share with us in the comments below, and we'll endeavour to share some travel stories on the destination(s) with you.