How remiss, Sugoi Travel & Style is in need of a little update… too much work and not enough play for this space's moderator ;-)
Not to worry, you're all in for some special treats over the coming few weeks. The Escape Travel / Back Roads Blogging adventure begins in just 12 days! In the meantime we're running some special interviews with a few pals who also share a love of travel.
Today, the lovely Melissa Loakes fills us in on some insider's tips to NORWAY.
---
Name: Melissa Loakes
Occupation: Marketing/Purchasing
Age: 32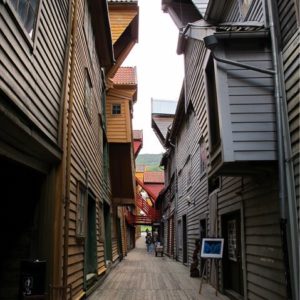 What's so cool about Norway? It's spectacularly beautiful, with friendly people and lots to see and do.
Why did you decide to go? I had wanted to visit Norway for years, mostly for its beautiful scenery, and decided that it was time to go!
Favourite part of your trip? The fjords and the surrounding landscapes. The scenery is breathtaking: words and photos can't really capture the feeling of being completely surrounded by it. There are some lovely little towns on the fjords, too. I particularly liked Rosendal on the Hardangerfjord. I stayed in Bergen and Ålesund in Western Norway, both of which are lovely cities and departure points for fjord tours.
How did you get around? I flew to Bergen and Ålesund. Once there, I walked around the cities and caught buses to places that were on the outskirts. For my trips out on the fjords and to surrounding areas, I pre-booked day tours (these are unguided, but the transport – trains, buses and boats – for each leg of the journey is booked) and a boat trip. I did the Sognefjord in a Nutshell tour from Bergen with Fjord Tours; a boat trip on Hardangerfjord (also from Bergen) to Rosendal, to visit Baroniet Rosendal; and the Fjord Experience (to Geirangerfjord and Hjørundfjord) with 62°Nord.
What would you recommend for others? I definitely recommend doing at least one trip on and around the fjords. There are a number of trips available to book through companies such as Fjord Tours and 62°Nord. In Bergen, I recommend a visit to the Bryggen area with its old wooden buildings and the Fløibanen funicular railway to the top of Mt Fløyen for a view over Bergen. If you like Art Nouveau, the Jugendstilsenteret/Art Nouveau Centre in Ålesund has exhibitions about the history of Art Nouveau and some beautiful pieces on display.
Any accommodation you would recommend?  The Augustin Hotel in Bergen and the Scandic in Ålesund were clean, comfortable and conveniently located. Both also have good restaurants. I particularly liked the Altona wine bar at the Augustin Hotel in Bergen.
Anything you didn't like about this travel destination?  No.
An insider's tip based on your travel experience to Norway? If you're going out on the fjords, bring warm clothes (even in summer), as there can be quite a wind chill.
What's your number one travel tip? Good research and preparation make for a much smoother trip.
And your next (ideal) travel destination? Israel.