Dave and Kate share an inspired story with us about house sitting and retirement. They actually retired early and for 9 years have been living a travelling life. These two discovered house and pet sitting a year into their travels. Since that time they've done more than 40 house sits! Their house sits and the early retirement travel story is filled with inspiration and colour. So much so, Kate is now penning her second book on the experience!
Kate's first book on house sitting as a way to travel in retirement, Call it Wonder, documents their decision to embrace a life on the road all those years ago. Her upcoming book, Other People's Houses will share their experiences and tips for anyone who wants to follow in their freedom-filled footsteps.
In our exciting pilot episode of Freedom and Four Paws, discover what Kate and Dave advise is the best approach for securing your dream house sits, how to make the most of house sitting, and early retirement. Also, how to stand out as a pet sitter.
Click here to subscribe to your favourite podcast service
Top house sitting and retirement tips from Kate and Dave:
On their very first house sit they cared for 40 animals! They laughed hysterically and told Cooper and I that it was a great experience, but one each wouldn't repeat. The lesson they learned (and we've had the same experience), is that as a pet sitter, you can be discerning about the situation you end up in. If 40 animals is too much for you, that's ok.
Similarly, if you don't like dogs sleeping in the bed with you and that's a requirement of the house sit, you should feel free to say, 'No thank you, this sit isn't for me', and choose another assignment. On a side note – make sure you do that before you accept – never commit and back away unless you really need to.
Discovering house and pet sits
Kate and Dave, nine years on, now use a few methods to find their next house and pet sit:
      TrustedHousesitters (score 25% OFF your membership, more information here)
      Personal referrals or repeat sits
      Social media, e.g. Facebook Groups
      Other house and pet sitting services 
House sitting 101: safety, communication and when to take a break
During our conversation with these two adventurers, we touched on the difference between finding your house and pet sits on a paid site that includes reviews, vs. free services like on social media. Like our podcast guests, we're very discerning when it comes to reviews, and find those helpful in determining what kind of sit it is. If there are no reviews, however, and it's direct contact on Facebook, for example, they advised that connection is important. Find a trail of evidence to support the homeowners are who they say they are, and that their premises is legitimate.  
They also advise to "think about what kind of experience you want to have"
    What type of animals and works for you?
    How much of your time should be involved during a sit
    Ask the right questions, for example, we've learned to ask both 'has your dog bitten anyone?' as well as, 'has your dog ever nipped anyone?'
    Does the pet(s) require special medication, how is that administered?
     And where do the pets sleep?"
It's competitive out there, so start house and pet sitting in your own area to build experience and reviews before launching into international stays.
Finally, when you're on the road, avoid booking back-to-back house sits. Remember, you are still working to an extent, so take breaks between sits. It makes it easier to travel to your next one without worrying about delays.
"Living a travelling life means we're so much more adaptable and flexible than we used to be, and I really like that feeling. We've learnt to travel light and live a downsized life – it's so freeing!
Ultimately, this lovely pair reminded us that on your house-sitting adventure, everything is about learning. There are no bad decisions: it's just part of the journey. You should absolutely set off as soon as you can.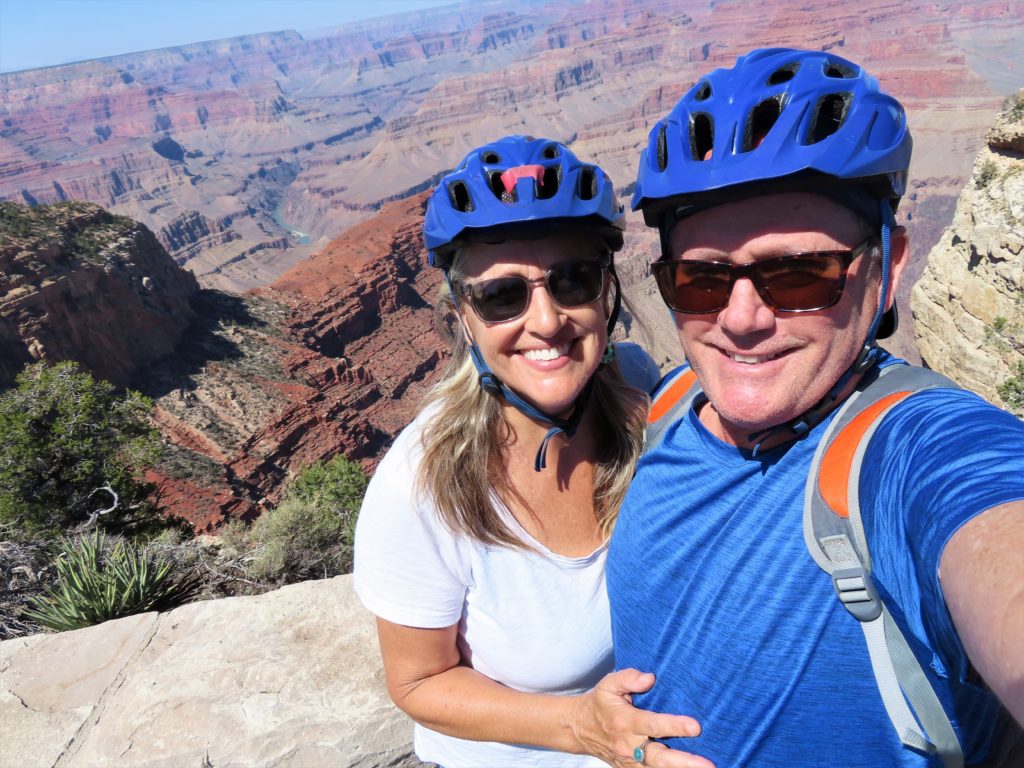 Find our guests, Kate and Dave online: kateevanswriter.com, Instagram @katenomadicwriter and Facebook page Kate Evans Writer.

Freedom and Four Paws
Join us on our podcasting adventures as we hear inspiring stories from amazing people travelling the world and living their best life.
Subscribe now and never miss an episode. Each includes excellent tips on how to slow travel, and successfully work remotely.  Search 'Freedom and Four Paws' on your favourite podcast service.
As a valued audience member, enjoy 10% OFF at our affiliate partner Cloudy. Relieve stress throughout the day straight to a soothing sleep at night.  Visit trycloudy.com and use the code FREEDOM10.
If you're a fellow traveller and pet lover who is keen to share your story and inspire the world, visit exhalemediagroup.com. Mention FREEDOM20 for 20% OFF any purchased service.
WATCH: Find out more about house sitting while you travel, view the playlist on YouTube
SIGN UP: TO TRUSTED HOUSE SITTERS HERE AND ENJOY 25% OFF! It's on our VIP mailing list, including other freebies.
SUBSCRIBE: on YouTube for more adventures youtube.com/travellivelearn

Podcast: Play in new window | Download