Get your goals for professional development in order by taking charge now, and being your own superhero.
Superhero status: make your goals for professional development happen
There was a time, not so long ago, when I was very unhappy at work. I felt ungrateful for having an attitude about it – I was respected, well paid, there was potential for progression, I had friends in the office and was working on an important national campaign.
However, the energy around me was low and my days lacked purpose. I'd lost sight of my goals for professional development and felt pretty down about it all. I'm a planning type of person!
I felt powerless and constantly worried. Regardless of the good points, I knew the sinking pit in my stomach told me the truth of the matter. I needed to either suck it up and get on without complaint, or to make a change.
As I came to this realisation, the business underwent a restructure and suddenly fresh opportunities emerged. I had my eye on one role that really suited my personality and skills. It felt like something I'd be passionate about. Could it be my time?
I hesitated on applying though – word in the corridors was that the role was tagged for another colleague.
I held on this for a good few weeks, while feeling disillusioned in my current position. The more I thought about it, the more I wanted to put my hand up for the opportunity, but worried about competing with colleagues and how I would show up if I didn't succeed. I had not been in this kind of spot before.
Somewhere along my life journey – early on, fortunately – I learnt to pursue the path of happiness. If I knew a situation was not right for me, I would make an often-uncomfortable short-term shift for the long-term good. Change is never easy and usually comes with associated risk, but I've always optimistically (possibly naively) just gone for it.
Armed with that attitude, I mustered the courage to speak to the manager hiring for the role, only to discover he had gone on leave that very day, for three weeks! 'Maybe it's a sign', I thought, heading back to my desk feeling dejected.
About six weeks later, I heard a murmur that my colleague set to go for the job I was interested in, simply left – walked out one day, barely a goodbye was said. That was my sign.
I launched out of my chair, invisible superhero cape dramatically blazing behind me, and marched straight up to the hiring manager to arrange a meeting.
I was nervous about the chat, figuring I'd have to explain my situation and that he would judge me. For what, I know not. As it turned out, he was very supportive and helped me see that it was absolutely fine to want a change.
I officially took the risk and applied for the job. Only one trusted colleague was privy to my plans, and I had to negotiate a special time (and reason) to get out of work to go and interview in the same building for two hours.
The situation was stressful, certainly, but it was more the stress you feel when taking a chance on something that's worth trying for. As in, the very opposite of how I had been feeling. That's when I realised, proudly, that I'd taken back my power.
Applying for that job was quite terrifying. I potentially faced humiliation, regret and ongoing awkwardness. That said, none of these things came close to how powerless I would have felt if I had carried on with things as they were. By some happy miracle, I got the job, and my instinct had been right – it was perfect for me.
I tell you this story now, because we're coming to the end of the year, when inevitably we reflect on areas of life where we may want a superhero to step in and save the future.
We're often asked what super power we would choose, like invisibility or the ability to fly.
I'm into this though: the power to make myself happy; the power to make my own decisions and the power to shape my own goals for professional development.
Muster a little determination and the willingness to see things differently, and you too – cape or not – can save your world.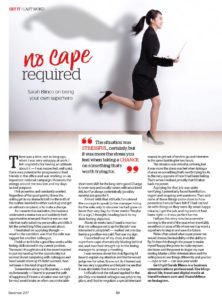 First published in the December 2017 issue of Get it Magazine, getit-magazine.com.au