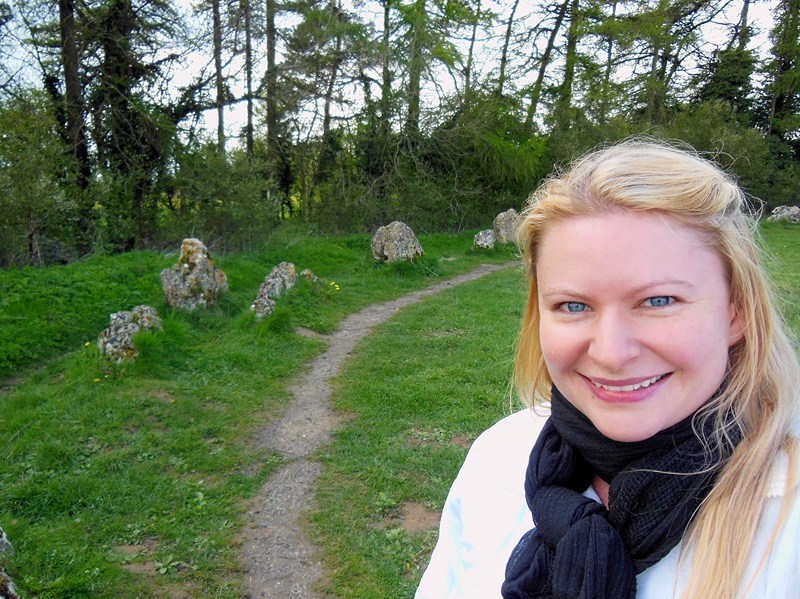 I'm sitting in the sweetest room in an equally charming property, The Noel Arms Hotel, in the middle of Chipping Campden, Gloucestershire – one of many gorgeous little villages in the Cotswolds.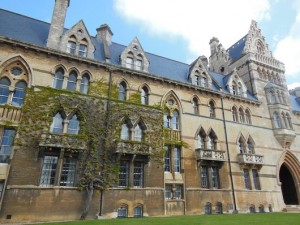 The three-course dinner served downstairs this evening was nothing short of superb; and I have to admit the company was equally as good. Our four-day Heart of England tour (the first for 2012, and in a brand new vehicle, no less) commenced this morning in London.
Our Back Roads Touring guide, VJ, met our travelling troupe at Lancaster Gate Hotel at 8.30am, packed our bags into the mini bus and whisked us away from the city.
As anyone who has been to the UK knows, there's nothing quite like exploring the lush English countryside – rolling green hills, old stone walls as far as the eye can see, and even some famous literary and film locations dotted along the map. Have to mention particularly for my mum that we drove through Midsomer Murders country – Chiltern Hills (Buckinghamshire) on the way to our first stop major stop, Oxford. Sunny spells throughout the morning meant we were able to explore the university town with ease and relative warmth.
Oxford is a small city of around 155,000 – known of course for its university and education industry, but also for publishing (Oxford University Press) and motoring (there's an important Morris Motors factory in area). The university itself has no 'exact founding date', however there is evidence of teaching there from around 1096, and it is evidently one of the oldest surviving universities in the world.
VJ guided us through the beautiful grounds, famous Christ Church (or 'the House') and cathedral, grand Great Hall (well known now to a new generation of fans who love Harry Potter films), covered market (brimming with 'distractions', as VJ called the colourful shopping options), through colleges, libraries and monuments to all those who have lived, died and sacrificed for the development of this prestigious institution. VJ is an informed guide who expertly explained all the mysteries, myths and legends surrounding the development of many of the great buildings of Oxford, as well as reminding us of some of the most renowned graduates of the university.
It would be easy to spend days discovering and learning more about this beautiful 'city of dreaming spires' (as described by poet, Matthew Arnold), but the few hours spent with VJ on site was insightful and offered an ideal overview of the university hub.
Our next destination, Blenheim Palace, is also another location where days could very easily be spent exploring (and it's similarly recognisable as a popular filming location in England).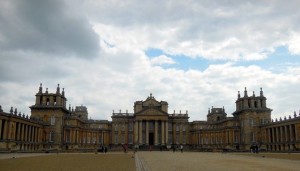 The magnificent property (located in Woodstock, Oxfordshire) is home to the 11th Duke and Duchess of Marlborough and is the birthplace of Sir Winston Churchill. Lavish, beautiful architecture, art, sculpture and tapestries adorn each internal wall and room; The grounds and gardens are immaculate and stretch for miles – literally.
The scope of the property is monumental, as is the collection of historical Churchill memorabilia – letters, photos, objects. The palace's history dates back through Winston Churchill's family, among a few other dignified British names, and the property itself is well maintained and boasts many helpful guides who know the history inside-out. We were all a bit awe-struck by Blenheim and its beauty and this stop was a highlight of 'day one'.
Following our spectacular stop-off at Blenheim we meandered through nearby back streets and lanes, some so narrow that VJ had to expertly dodge on-coming vehicles because locals actually park 'on' the road. He pointed out some interesting features, buildings and stops on the pretty drive through the Cotswolds, and we were fortunate enough to take a peek at the Rollright Stones – a single stone, the King's Stone, located on one side of the road (hidden from view behind trees, but positioned on a mound overlooking valleys and villages); and on the other side of the road we discovered a circle of stones, named The King's Men Stone Circle. Thought to be around 5000 years old, this site was particularly intriguing for me – I love a good mystery steeped in ancient English myth!
No tourists, no barriers (ala Stonehenge), just us and a scene dating back thousands of years. Legend has been passed down that if you count the number of stones in the circle three times and come up with the same answer each time, you'll either die or find the love of your life. Needless to say we didn't feel the need to test the theory, although one brave soul (and popular American author!), Kay Moser, did give it a go… she's still here so we're going with the 'love of your life' theory playing out in her future. We also drove through a little place called Moreton in Marsh, reportedly the safest town in the UK because all the emergency services train there – they even have their own motorway for accident and emergency drills, and ladies, there's a fire-fighters academy too! Who would have thought, in the middle of England?!
We casually checked in to the hotel late afternoon, freshened up, some explored Chipping Campden village, and then we met around 7pm for a drink and dinner get-together. So far the tour has been interesting and easy. Back Roads Tours have thus far proved to be small, comfortable and personal, with an intelligent calibre of travellers attracted to the program. Our group is a savvy, fun team of smart and well-travelled women (and two men, including VJ) – mostly Aussies, with a sprinkling of Americans and Canadians. Time for bed – Shakespeare's country tomorrow.
VIEW THE PHOTOS HERE / and HERE.
WHERE: Oxford, Blenheim Palace, Rollright Stones, Cotswolds.
HOW: Back Roads Touring UK and Escape Travel Australia.
STAYED / DINED: Noel Arms Hotel, Chipping Campden