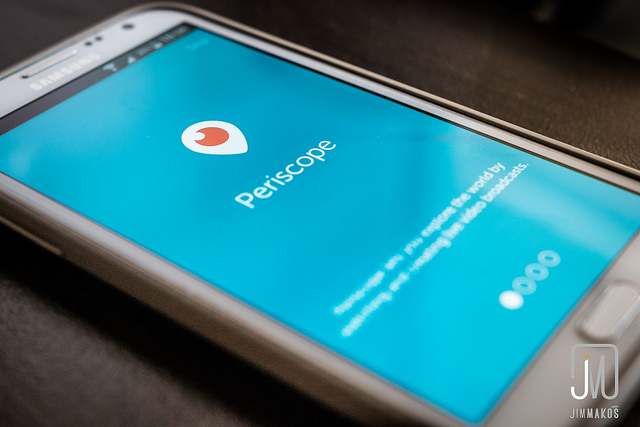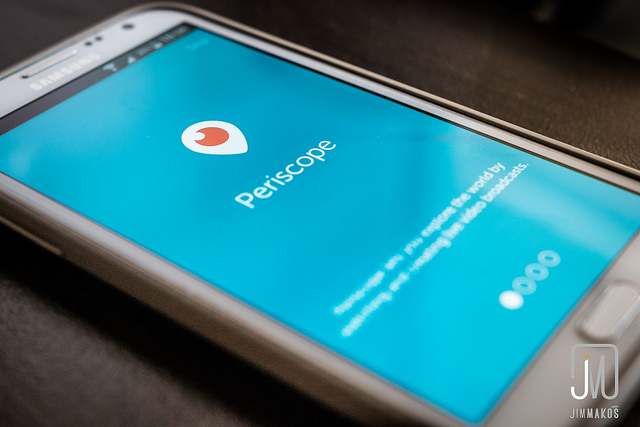 There's been some buzz around the world recently on a new social broadcasting platform called Periscope. It came to fame around February this year when Twitter bought it (before it was even officially launched, as far as I'm aware).
Periscope's key competitor was the cutely-named, Meerkat, which initially had a large uptake of celebrity users, but recent accounts indicate this may end up a battle akin to the old VHS v Beta showdown (for those too young to remember, VHS won, and hence became our standard in video cassettes for years before DVD and Blu-Ray entered our homes).
Wondering how to Periscope? We were too, and we heard more about this trending tech at TBEX in May. Now Periscope seems to be everywhere, particularly following its launch on Android this week, and everyone interested in discovering a new way to share their message is wondering how to use Periscope app.
It's certainly still very much in its infancy – evident at any foray into this brand new communications experiment. Cooper and I have been delving in a little into how to Periscope over the past week or so; we're seeing BIG potential, as well as noticing it's a reasonably straightforward application which enables users to do one of two things (as long as you've got the WiFi to support): watch or broadcast.
At the moment there's plenty of CRAP content making its way through Periscope's lens. Most disturbing I've come across is teenage girls chatting away in their bedrooms, obviously craving attention but seeking the wrong kind! Other rubbish content, in my view, consists of people – girls, guys, groups – engaged in boring conversations and activities (driving in a car, brushing their hair?!), doing nothing special, and basically broadcasting themselves for the sake of, well, self-absorbed 'selfie-scoping' (hey, I made that term up, don't pinch it without a credit!).
Problems?
How is it policed to prevent things like bullying, abuse and broadcasts by extremists? It's 'live'.
This raises concerns in my mind, but I'm a fan of technology and have to assume (hope) responsibility and common sense will primarily prevail. I'd also assume the Periscope-powers-that-be are aware of the issues and consistently making changes. One problem that originally occurred, is the location of broadcasts were so specific that whoever was broadcasting live could effectively be found where they were – at home, the park, work or anywhere. Spooky. That oversight has since been resolved.
I'm also noticing a serious lack of parenting with regards to kids going live and publicising themselves. I understand 'it's all about me', BUT it's also all about the predators out there who are pinpointing your location and make themselves believe you're in need of their attention. Garner your self-confidence elsewhere, kids. This isn't a game.
Potential
Creative entrepreneurs and business marketers will move this into a new realm, just like they did on Twitter, Facebook, G+ … Quality content and smart users will be easier to discover, and rightfully own the platform.
There's great potential for people like us, travel bloggers, for example, to live broadcast experiences, although the issue of accessible, reliable WiFi throughout the world does pose a problem in the short-term.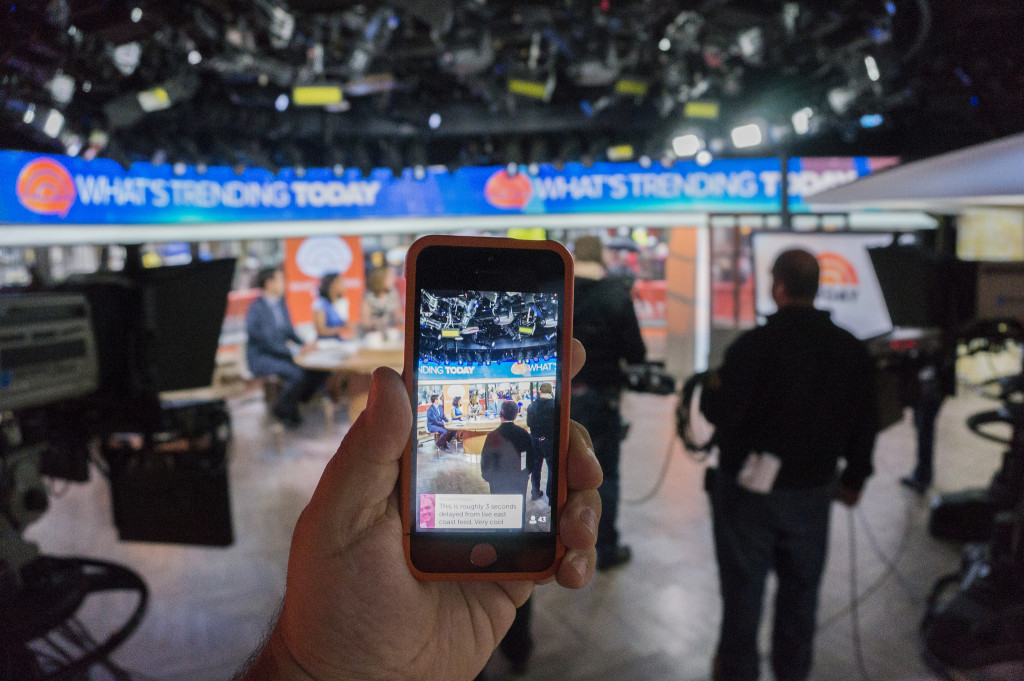 How to Periscope
Firstly, you do not need a Twitter account (as at May 2015) to stream on Periscope, but it might be a nice complementary platform to match up with if you do plan to stream your adventures.
Download the app on your mobile device – search Periscope and it shall appear. Facilitate the usual account sign-ups, and you're away.
At first you might like to watch what's online at the time – users who have a large audience will show up at the top of your feed, but you can scroll down and view others. No doubt you'll select someone with a headline that grabs your interest, e.g. travel enthusiasts might go for something titled, 'Live from Venice and loving our romantic canal ride'. I'm assuming this user experience will evolve over time, but go with it for the moment.
If you'd like to broadcast, you've got two options once you hit the live button: Film what you see, and commentate behind it if you like, or double tap the screen to turn it on yourself and broadcast 'talking to the camera'. It's an instant news room or your own talk show!
If you're watching something and you like it, tap the screen and give it some 'hearts'. The more hearts a user achieves, the higher they'll rank, so more people will discover them. Please try to send quality content to the top of the Periscope charts, not cute boys/girls prattling on about useless nonsense! Cheers.
When you go live, you'll be given a few options on the screen which are worthwhile considering, these include turning location settings on, updating to Twitter (so your followers are alerted to the fact you're 'broadcasting now', and saving your broadcast to your phone's camera roll).
Your broadcast will be viewable on Periscope for 24 hours after you go live, but as I understand it, for it to be viewable, you need to let the broadcast finish loading once you've gone off air.
Go ahead and follow other broadcasters (interesting accounts are currently being run by the likes of Huffington Post, key news outlets and on-the-ball bloggers), but don't follow too many – in our experience, you'll start to get tired of your phone beeping every ten minutes alerting you to a new live broadcast.
If you get stuck, I've found the Periscope FAQ and help desk to be efficient – they responded to a query of mine in under 48 hours.
It's easy to block trolls or negative users, just go to their profile and select the 'block' option.
Make sure you have plenty of phone battery available, especially if you are live casting something important.
It seems to me, that at the moment you can only search for users, not content under themes or feeds. Am assuming this will evolve over time so the medium is more searchable, like Twitter is. Let me know if I'm missing something though.
Also appears that you need to follow someone to have access to their feed, that is, their broadcasts that are held online for 24 hours.
Content tips – How to use Periscope for broadcast
Going by all the bad content we're seeing compared with the little bit of great stuff being broadcast, I'm noticing the potential for rules that could work on this platform, and they're similar across other social media:
If you're going to 'scope' (broadcast), do it regularly; not once in a while.
Research what time your Twitter audience (and usual fans) are up; go live at that time. If you're in the UK and targeting an American audience, for example, you'll want to broadcast in the afternoon/evening – in the morning your peeps will be asleep, so you'd be wasting your time.
Share good content – have something interesting or constructive to say or showcase.
Be personable (social!) – reply to comments (you can do this live as you see them coming through when you're on air, pretty cool!).
Try to make sure the quality is reasonable – that people are likely to be able to hear/see what you intend for them.
Be creative in what and how you share; and as with all other media, stick to your niche and share content that will further position you as an authority in your field.
Choose a headline that grabs attention and explains exactly what you're sharing (target your audience).
Don't forget to fill in your profile!
What do you think? Drop us a line below to let us know if you're on Periscope (or any other live broadcasting mobile tech, for that matter) and how you'd like to develop it as a tool for sharing your message or promoting your business. 
Further reading:
Image credits:
Jim Makos via Flickr creative commons
Anthony Quintano via Flickr creative commons
By Sarah Blinco