January 25, quite a good date for me each year. Not sure why, perhaps it is wishful thinking. It stands out in my mind because it was around this time in 2000 that I was in California, and shy as I was, I used my tiny bit of 20-year-old media savvy to talk my way into Fox Studios and on to The X-Files set. So awesome. I still have that security pass! Hopefully my day at work will be ok, although I can't imagine something that exciting would happen…
Although it did last week! On Tuesday we received a thank-you card from Victoria Beckham for some gifts and a letter I'd packaged up for her a week earlier. Très exciting! Then, on Thursday I randomly decided to listen online to Capital FM London and heard they were running a promotion for the new Harrison Ford film, Morning Glory, set in a Breakfast TV context. The following day was the last they were calling for stories on people who met in the workplace. As our old mates know, Cooper and I originally met in radio, and hosted a popular breakfast show for a little over two years, even winning a Radio Award in 2001! This is how we got to know each other, and our relationship was generally a secret, or so we thought… Anyway(long story short), nine years and an engagement later, I thought this would be a good story for on-air. I was shy to send it in though – I am not good with mornings now! However, an all expenses paid 5-day trip to New York was an enticing incentive, and when I saw a poster for NYC at the tube station on the way to work I knew it was a sign.
6.45am the next morning, I am in the shower and the phone rings… Fortunately they rang back to give me the heads up – I was a finalist!! The producer encouraged me to practice my story and be on stand-by at 7:15am. Loitering in the dark cold street outside where I could get reception on my phone, I nervously awaited a call back, cursing the bus that just pulled up as it was noisy and interfering with my line.
Phone rings, and I'm instructed to wait on the line. Listening to the ads and being on hold to go on air reminded me of waiting to do my Street Team 'thunder' crosses for B105FM in Brisbane lol. Anyway, was on air for about 2 to 3 minutes and think my cross went pretty well, for a rusty old radio chic. Oh, and we won the trip to New York!!!
I was madly trying to call Cooper to tell him, but of all days he left his phone at home! My email to him that day went something like:
"I seriously can't believe you left your phone at home today. I won that trip to NYC!!!!!!!!!!!!!!!!! wooooooooooooooooooooooooooow. Happy dance happy dance happy dance xxxxxx"
Facebook lit up with well wishes and I couldn't concentrate very well on Friday. We actually won this on Cooper's lovely sister (Kiri's) birthday, so I can only hope it is a good sign for everyone for the year to come.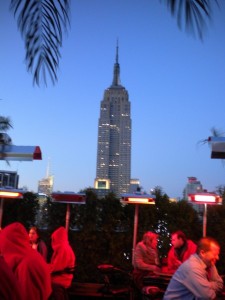 SB x