Mostly on the Sugoi! Travel & Style blog I've written about my own travel adventures. This week I had the opportunity to meet a Chinese visitor to the region so I asked him about his own thoughts and experiences here in Cairns…needless to say I'm pretty sure he's leaving as a fan of the north.
---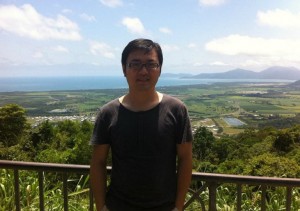 Carl Li
From China (Taiyuan and Guangzhou).
What was the highlight of your visit to Cairns? It's my first experience in Cairns, so an adventure! I went skydiving for the first time, went to the Reef for the first time and visited a small country town (Mareeba).
Why did you choose to go skydiving in Cairns and what was special about the experience? You can't do this in China! We envy experiences like this. There were people from all over the world skydiving with me. It was interesting to meet such energetic people. The feeling of being in the sky and challenging fear is one of the best memories you can have in your life.
What did you like most about taking this trip with Skydive Cairns? They were professional, very skilful and made us (feel) safe – we had a safe experience and customers felt confident, which is really important.
How did you enjoy your trip out to the Reef? I went out with Reef Experience. The company was very good for someone on their first try. Most of the travellers on that boat had little experience scuba diving. On this trip we were provided with a good opportunity to scuba dive, snorkel, and the staff were professional and friendly. I was sad to miss seeing the big turtle and shark but I did get to see lots of different kinds of fish, coral, marine life. You always see this (the Great Barrier Reef) on TV but this was real – a good memory and experience in my life.
I've realised on this trip though that having a strong, healthy body is important – in skydiving and diving in the reef you can feel your strengths and weaknesses. I've realised I think I need to exercise more, or learn to swim better – I'm inspired to be better next time I try these activities!
What would you suggest are the main reasons someone should visit Cairns? Most important is the Great Barrier Reef – it's the biggest one and most beautiful in the world. After that is the coastal life – Cairns offers a typical Australian cultural experience by the sea. I love the small coastal city, sunshine, beaches – very beautiful. You can meet people from all over the world here too, it's very multicultural. Cairns is a fresh city and it's easy to make friends. People are very nice here compared with people in big cities. I've loved it so much that if/when I have money I'd love to buy and stay in a place like Cairns. It's peaceful and enjoyable.