Received a special present in the mail today from Patsy Rowe – the revised and updated third edition of her worldwide success, Business Etiquette.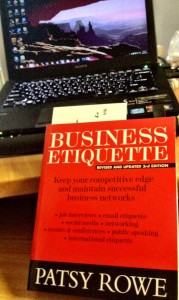 You're likely to recognise Patsy, or her name. She frequently appears as an 'expert' on television shows like Sunrise; comments on radio, presents sell-out etiquette and networking workshops, and has published many popular books. I had the pleasure of working with Patsy earlier in the year as she was revising Business Etiquette for New Holland Publishers. We discussed the ever-evolving world of social media and subsequent impacts on business, interview and general lifestyle etiquette. When Patsy first wrote Business Etiquette, social media wasn't yet born, but we had fun Skyping about this brand new frontier, and I thank Patsy very much for mentioning me in her new update. My first book credit. How exciting!
Business Etiquette is a brilliant little bible for anyone interested in perfecting composure in any type of situation – from job interviews, doing business abroad, networking, dinner parties; how to eat, when to smoke, appropriate topics for discussion, travel tips and common miscommunication between various cultures and speakers of different languages. Times may change and social situations vary, however fundamentally, the etiquette we display influences how we are perceived, which usually impacts on the successful outcomes we wish to achieve.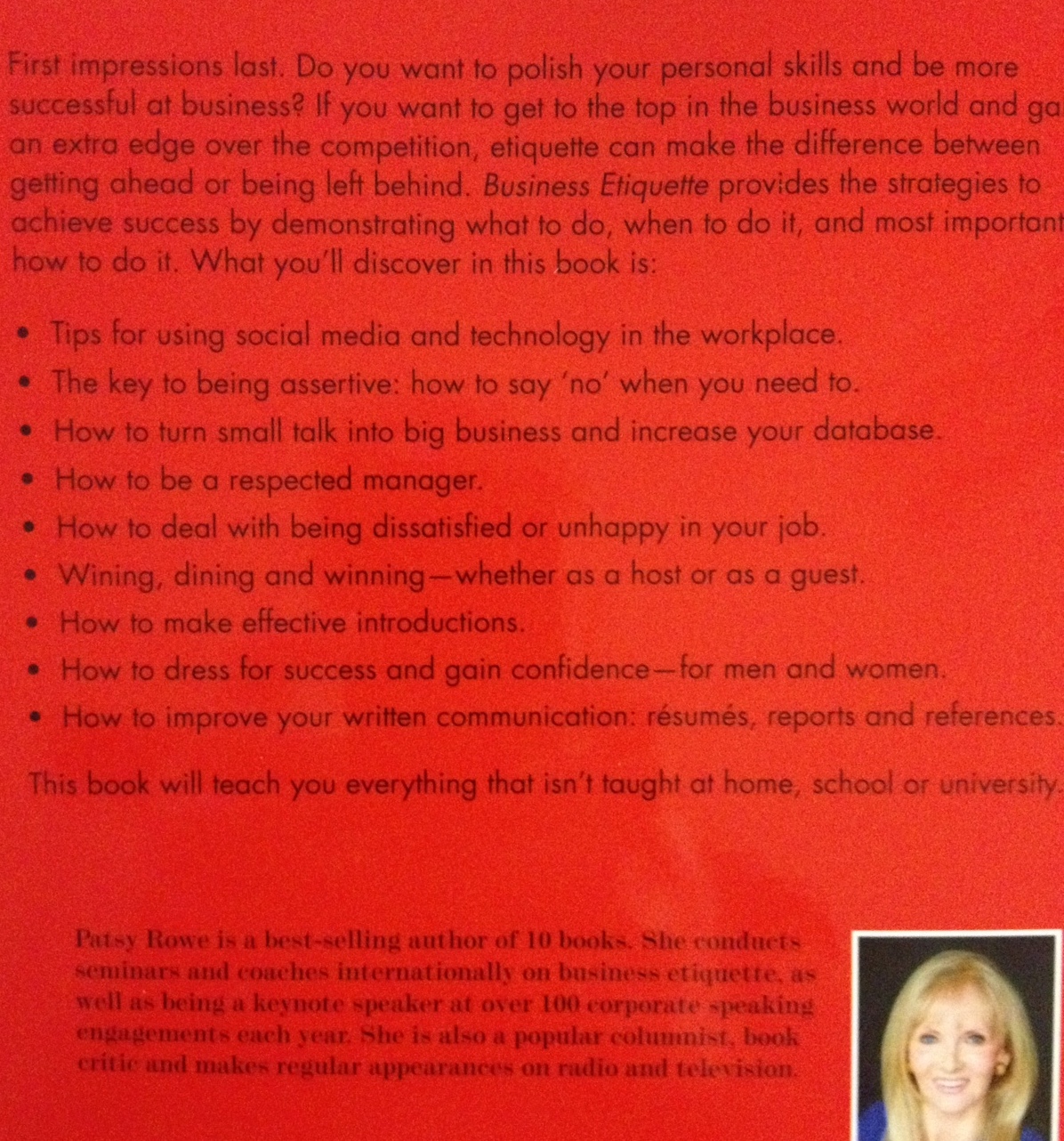 From the publisher:
Did you know that a knowledge of Business Etiquette can make the difference between getting ahead, or, being left behind in an increasingly competitive business world? "Today, many people are not always confident of knowing what to do, and most importantly how to do it," says Patsy Rowe, columnist, keynote speaker, corporate trainer and best-selling author of four books on modern etiquette. "I wrote Business Etiquette to help anyone who wants to be the best they can be: from successfully applying for the perfect position, to working efficiently from home, from keeping customers happy and enticing them to do more business with you, to being more assertive & saying no when you need to."
Discover how to:
• deal with being dissatisfied or unhappy in your job with strategies to imptove relationships with colleagues and management
• manage your cyber CV & apply successfully for jobs online
• shine whether 'in person' or 'in Skype' interviews
• make effective introductions and create a positive first impression
• break into a group, mix 'n' mingle with intent and maximize your contacts after a function
• manage today's new gender etiquette
• make Social Networking work for you, or your company
• say "a few witty words" in public when you need to
• be a respected manager
• wine & dine with confidence – your role as either host or guest.
This book will teach you everything that isn't taught at home, in school or at university today!