Most budding young entrepreneurs will agree, Google is an aspirational brand. Similarly, 'tech' is an intriguing industry for anyone who has grown up into the contemporary business landscape.
This all being the case, most with a creative longing would jump at the chance, as I did, to hang out at a Google branded learning and working site; did you know, this exciting opportunity exists for anyone living in or visiting London?
It's not so much the 'technical' aspect of 'tech' that's alluring (well, for some it is), but the prosperous growth we've witnessed out of regions like Silicon Valley in California.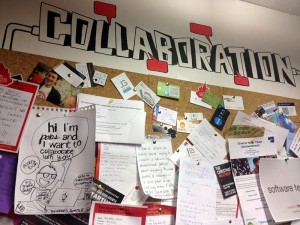 Potentially, anyone can possess the next cool idea, and create an innovative, internationally successful brand. There's opportunity for programmers, bloggers, PRs, writers, developers; a whole array of start-ups, billion dollar pitches and those with big dreams. Tech stars are the new rock stars.
As one who is inspired by such notions, I tune into BBC's Click each week to learn about what's up-and-coming in cyberspace and the world of technology.
During 2012 from a sofa situated in a far off land 'Down Under', I learned of an area dubbed 'Tech City' in east London. Evidently, this thriving centre attracts business start-ups and entrepreneurs from all over the world, and is the UK's very own version of California's famous 94027 (or thereabouts) postcode.
The story, as I discovered, got even more exciting, because located within Tech City is Google Campus − for me, a 'must visit'.
I'm not a computer nerd; merely, a nerd. I can't program or design. I struggle to maintain the plugins on my WordPress site! However, I love the whole 'Google' concept: dynamic, intelligent, creative individuals working together to produce new, cool 'stuff'. In London, Google offers this space as a way of 'giving back' and hopefully assisting other young dynamos to grow into the next influential name.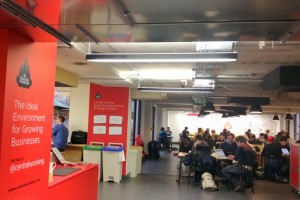 The facility has been designed primarily as 'shared office space' − a concept gaining momentum in our contemporary digital age where more individuals (like me) are taking advantage of modern technology and working for themselves. While there are huge benefits in producing business revenue on your own, it can often be a little lonely and uninspiring. By renting a spot in an environment with like-minded business owners and entrepreneurs, it's possible to share ideas, energy and collaborate towards a greater good.
I had always planned to drop by and check out Google Campus' business spaces, but upon browsing the website to confirm New Year opening hours, I discovered a course being held today that was media-focussed and open to the public. Fate! I booked in, and this morning excitedly packed my lunch, port and computer, jumped on a train and off I went.
It was like heading back to school again, except this time I wanted to go!
You don't have to rent a desk or book a course to get inside this funky London facility though. Any start-ups/entrepreneurial types can sign up for free access to the central hub − a large cafe and shared workspace that generously offers fast free WiFi (and serves great coffee)! Google Campus' cafe come collaborative workplace was humming all day during my visit, with a preppy 20 to 40 year-old-set networking, sharing ideas and tapping away on laptops. My kind of scene.
Google-esque features include open-plan spaces, funky bookshelves brimming with reads from various academic streams, brightly coloured decor, pool table and pin ball machine, shared work / bench spaces, and community noticeboards.
Now I have my own campus access card, a little extra knowledge (thanks to Tricia from Coffee Shop Communications) and tonnes of inspiration to work on ever more of my own business ideas during 2013.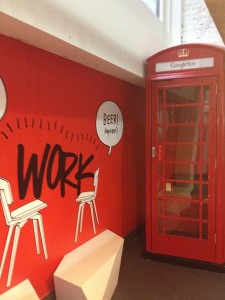 Whether you're living in London or just visiting, check the website for networking get-togethers, and courses on offer − you never know what may take your fancy. Additionally, I can vouch for the calibre of information taught over here − it's definitely world-class and there's no doubt you'll take something away from every little experience you invest time and/or money into.
Otherwise, if you're so inclined, register for free at (CampusLondon.com) and drop by for your own piece of start-up motivation. Thanks Google Campus London for offering such an innovative space for the likes of me to experience, if only for a day.
Are you a geek like me? Have you been to Google Campus? Would you like to go?
Let us know your thoughts. tweet @sarahblinco or find TLL on Facebook
Feature image by Andy Roberts, Flickr creative commons