Following Charlotte Dawson's tragic death in Australia and the massive #charlotteslaw push to better manage cyber-bullying and the like, we wanted to seek some advice on what everyone – individuals and businesses – can do to protect and combat against trolls and critics online.
To help us shed light on this topic, how to effectively manage trolls and critics online, we spoke to Leonie Smith, also known as The Cyber Safety Lady.
She explains: "Everyone using any social media platform should be sure that their personal profiles have the most secure privacy settings set up. Be sure to vet all friendship requests and keep your friendships real and to a minimum.
Security
With the amount of successful internet scams increasing due to the ease with which scammers can steal our personal information, it is vital that we protect our private information online. Information such as our home address, age, our family members' names, which utilities we pay for and more. One post complaining about your utility bill using the name of the institution, can result in a very realistic email that seems to come from that Tweeted company arriving in your inbox, and then one click and you might have a virus sent to your computer to gather even more information about you in order to be able to steal from you. By knowing who our friends are online, and by keeping our online profiles as private as possible we can at least make it a little more difficult for scammers to dupe us.
Check your privacy settings, and really drill down into them to make sure you really do have a private profile.
Always make sure you are posting personal updates privately.
If you post on a public platform be very careful what you say, think like a scammer!
Create secure passwords and have a different one for each platform.
Dealing with negative comments
If you have the responsibility of a company social media page or profile, dealing with negative comments might be something you come across sometimes, or perhaps regularly. Companies using social media need to respond to negative comments as they would if those comments were sent in an email to the company. Respond in a timely professional way. Invite the commenter to direct message your page or profile, to give your customer service employee their details so that they can help the customer away from the public platform. Be sure that the public sees you taking steps to remedy the complaint quickly and with tact.
If the comment is simply abusive and threatening, you can do the same or block the commenter. Do not respond to violent comments or abuse. Ignoring the abuse and deleting it will shut down the abuse very quickly. If your page or account is overwhelmed by abusive comments and blocking them is impossible, take the account offline for a time to re-group and come up with a response. It is always important to acknowledge public outrage if it is directed at one of your services. Ignoring public outrage can create a situation where the public go elsewhere to rage against you. Responding quickly with respect in a professional way, even to say that the concerns are being taken very seriously and will be address by such and such a time or date, (make sure you stick to that time) is vital to ward off a pile of complaints. Some companies need 24/7 moderation of their accounts in order to do this. Responding the next day may be too late!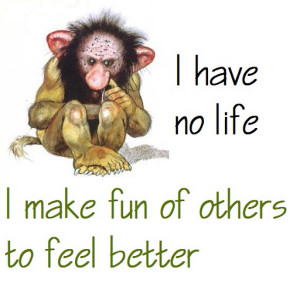 For private personal online accounts, you might be able to respond in a similar fashion. If you receive spam, or a nasty comment, especially if you don't know the commenter, take a screen shot of the abuse, to have proof if needed for further action, report the commenter to the social media platform's administration through the available reporting tools, and then block the commenter. Do not ever retaliate or pass the comment on. Responding or sharing the comment online will only send out a signal for others to join in the abuse.
If you ever get into a situation on a social media platform where there is someone who you would like to keep connected with but who upsets you at times, there are tools you can use on some platforms where you don't see their comments or posts but they don't know you've blocked them.
The rule for dealing with personal online abuse is to screen shot (get evidence) the abuse to save a copy of it, you might need to show authorities or send to the admin of the site, block the user, report them using the tools and then gain support. Tell a friend if it is particularly upsetting.
I have outlined how to use some of those tools in my posts on thecybersafetylady.com.au. Instructions on how to block and report and to screen shot online abuse through some of the more popular social media networks is available in my Keeping Kids Safe Online cyber safety book, available from thecybersafetylady.com.au/keepingkidssafeonline."
How to manage trolls and critics: more expert advice to consider 
"A troll is someone who deliberately evokes anger from others. They often get pleasure and satisfaction from 'trolling'. There's two good lessons you can pick from the definition of trolls to handle trolls. The first is to not get angry. Secondly, don't label someone in your mind as a troll. A troll is someone who deliberately does something to evoke anger from others. It may not be deliberate. Conflict management is a matter of perception – opening your mind." -Joshua Uebergang, director of Tower of Power

"As a putatively cynical private investigator I'm not in the habit of quoting from the Bible but turning the other cheek is undoubtedly the best way to deal with most online attacks. If you grew up before the advent of the internet, you know there's a life offline so if someone is targeting you personally, go for a walk and smell the flowers. If you are part of the generation that has only known computers, turn off your machine and go ask your grandfather how to fly a kite or build a go-kart.

In the case of businesses that are subject to serious online campaigns or defamation, don't do anything before seeking advice from a social media expert, a lawyer or a private investigator. Removing the content may make the troll even angrier and may interfere with your chance to identify him or her and stop the action for good." -Lachlan Jarvis, Private Investigator, Lyonswood Investigations and Forensic Group
If you found this helpful, keep an eye out for part two – we hear from The Bachelor Australia's Natalie Sady on her experience with trolling and her advice on dealing with it.   
What's your experience? Leave your thoughts in the comments below, or find us on Facebook or Twitter.