How to pitch magazines for beginners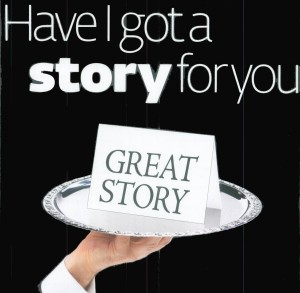 Another topic we brainstorm in Media Bootcamp is how to pitch magazines for beginners (or pitching to all other media, for that matter.
It's a similar process to how you might come up with regular blog or social media topics.
While older students/communications employees learn varying tactics on this in university/college or even in the workforce, here's a breakdown for the enthusiastic amongst you who want a simple strategy for coming up with either things to blog about each day or one step further, story options to pitch to media.
Here's our daily routine in a nutshell – 4 steps
1. Grab the newspaper, current magazine or your favourite daily digital media streams, and scan through over breakfast.
2. Circle/cut out any news or feature stories that catch your attention and that you consider you'd like to ponder some more.
3. Once you're done tearing out clippings (or saving), place them in front of you and brainstorm (mind-mapping on paper or using a relevant app will help with this exercise) – think about alternative angles (or spin) on a story that's related to what you've captured from your daily scan.
A great example I noted in Australia was presented on Channel Ten's The Project. It was Australia Day and Aussies are notorious for being 'big drinkers'. Instead of being mundane and running a common story on the dangers of binge drinking or an interview with an expert who would tell us how bad drinking is for us, The Project team came up with a different angle – they interviewed Australians who don't drink, and asked them to share what it's like to be part of a circle of friends who were consistently drinking and who often continued to offer their non-drinking mates alcoholic beverages. They asked the interviewees about why they decided not to drink, and how difficult it is to be a non-drinker in a society that loves alcohol.
This is a perfect example of taking a timely topic/event (i.e. lots of Australians drinking lots and lots of beer on Australia Day) and placing a unique spin on it, and consequently coming up with an interesting media story.
Things to look out for when scanning media, particularly daily media sources, include stories that feature newly released statistics that you could angle an idea around (e.g. "Divorce rate hits 77%"), and stories on topics you have a special interest, understanding or even training in (so you can offer an 'expert' angle).
Also, note stories on personalities that may seem like just 'today's news', but that could potentially be pitched with a varying angle to a longer lead magazine (e.g. weekly, monthly). For example, Justin Bieber's drunken rampages a while back could be extended to a timely pitch on, "What's making today's youth crazy?" or, "How to avoid a boyfriend like Bieber" – so many options, and of course it depends on who (what type of media) you are planning to pitch a story idea to.
4. I'll admit, it's often hard to identify brilliant story and pitch ideas on your own, so make a habit of catching up with friends, take your clippings along (or have the stories stored in your head), and have a chat about the stories you've picked out. You'll be AMAZED at what brilliant ideas come out of a chat and a laugh with your friends, who will help you come up with timely and unique angles that will make your blog posts shine and turn your media pitches into commissions.
Want more mentoring or a better insight into the career of your dreams? Join us in digital Media Bootcamp and sign up for the mailing list for free advice like this direct to your inbox.
You're welcome to stay in touch or ask questions – I'm on Facebook, G+ and Twitter, or drop us a line in the comments below.
By Sarah Blinco