Super easy social media with Sarah Blinco
Google+ – The ultimate guide on 'How to Google Plus for Beginners' – step by step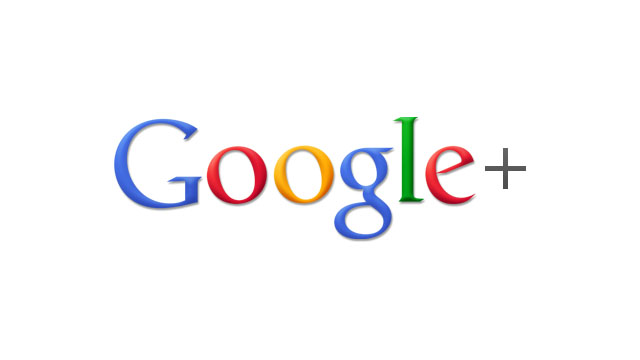 I've recently been speaking to a number of up-and-coming writers, media professionals and business owners who are keen to have a go at Google+ but hesitant to set foot into yet another social media realm. Yes, the issue has been raging for a good few years now, and although I'm a fan of the platform, it is still to "take off" in certain parts of the world, including Australia where I am presently working. I've been asked for help on it a number of times recently, so thought a cheat sheet on how to get started might be useful.
Here I'm covering 'How to Google Plus for Beginners' who are keen to try/utilise the platform for networking, research, learning and connecting with like-minded users.
I will cover:
Getting in and started
Profile set up
Developing your "circles" (network)
Posting and reading your Home (news) feed
I advocate that for professional reasons, people keen to brand themselves and network in the social space should step away from Facebook and into Twitter and/or Google+. Personal experience concurs with the many research articles and experts in the field suggesting Facebook's demographic is shifting, and one day will indeed not be the place for anyone who wants to connect, learn and grow on a professional level, no matter what field you're working in.
Additionally, no-one can deny the stronghold Google has on the world (and indeed, World Wide Web), and life in search-ranking mayhem is made a lot easier if you're playing over on Google's field. This is for a whole variety of reasons which I'm not going into here today because this piece is for enthusiastic beginners who already know there are benefits, but are just a bit confused on how to get started.
Why have a Google+ account?
1. Google Authorship requires you to have a Google+ account; that is, when you search for something or someone in Google, you know how a headshot appears in the search results? That's Google Authorship. It is a tool that helps Google view all the content you've created as a "collection". It helps your search ranking and also gradually builds your authority as an expert in your field.
2. Social engagement with content is increasing in importance by the day, and those who are active on social media will be recognised as relevant and interesting content creators. Of course there are numerous social networks that Google will look at to determine search rankings and importance, but guess which one will be checked first?
3. To be able to comment on YouTube you need a Google+ account. As YouTube is a critical search engine these days, you're likely to be using it, and perhaps will want to engage with it more as a social network in the future, so good to be in the mix now.
4. In my experience, it is easier to discover quality, interesting, relevant people to liaise and network with on Google+ which makes the platform similar to Twitter in that engagement is interactive and rewarding – much more so than on Facebook.
5. It is actually really easy once you're set up, and to me operates as a cross between Facebook and Twitter's platforms – they've all got similar principles across the board.
How to Google Plus for beginners – let's begin
Sign up
You'll be surprised to know that perhaps you already have an account with Google. You're likely to be able to login if you have a Gmail account, or even an old YouTube login.
1. Go to Google.com.
2. Locate the SIGN IN button on the top right corner of your screen.
3. Click on it and discover the most appropriate option for either signing in (if you think you may already have an account (as per above explanation), resetting your password (if you potentially have an account linked to an old email address that is worth checking on first) or signing up fresh. There is a "password help" link which will guide you through the process if you suspect you may already be linked with Google in some way. Otherwise, register for a new account in the usual way.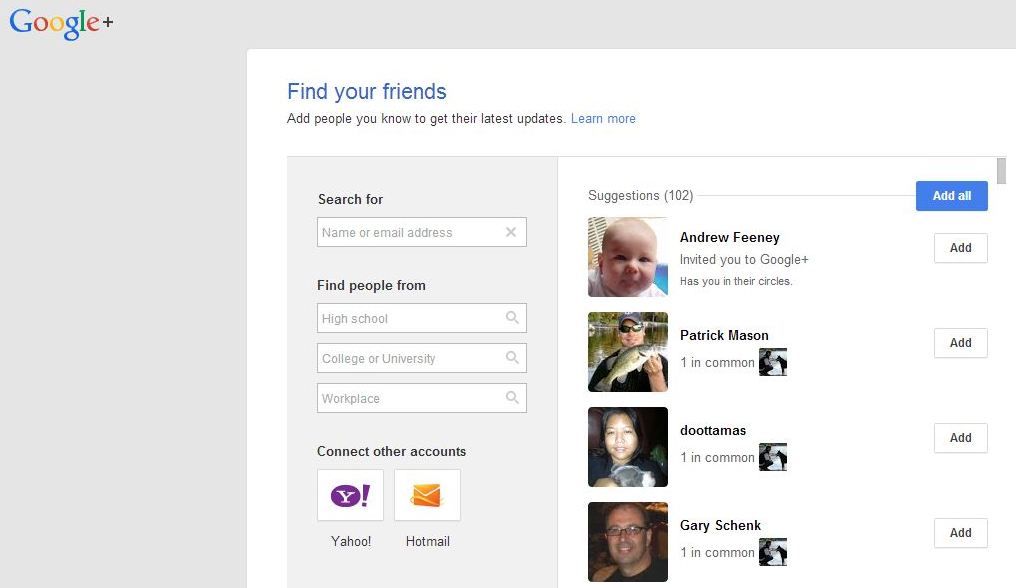 4. Once you're in and you've noted your login/user name and password, a "find friends" screen generally comes up to get you started (see above image). Here you can choose to add people you know or would like to connect with, or you may "Continue to Google+" (you can always add people to your friends list/networks ("Circles") later if you would prefer to get onto profile set up).
Note, when you "add" people, an option appears to bundle them into a certain group; Google+ automatically offers categories such as "friends", "family", "acquaintances" (see below image). Google+ calls these categories "circles". Yes, you can create your own categories (circles – similar to lists on Facebook and Twitter) and it is advisable that you do so from the beginning before you connect with too many people. This makes it easier in the future to check out what different people in your "circles" are saying; perhaps you'll want to take a peek at what those in your "celebrity" circle are talking about, or you might want to read what everyone you've filed in your "work related" circle are saying.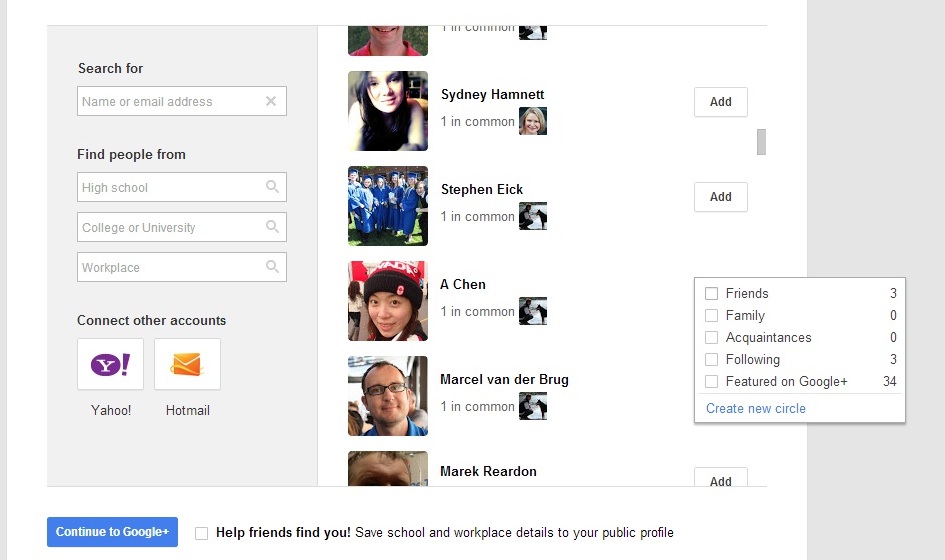 How to Google Plus for beginners 

Set up Profile
Setting up your profile is probably the easiest place to begin, and it works in just the same way as other social networks including Facebook, Instagram etc.
1. Click your little head shot image on top right corner.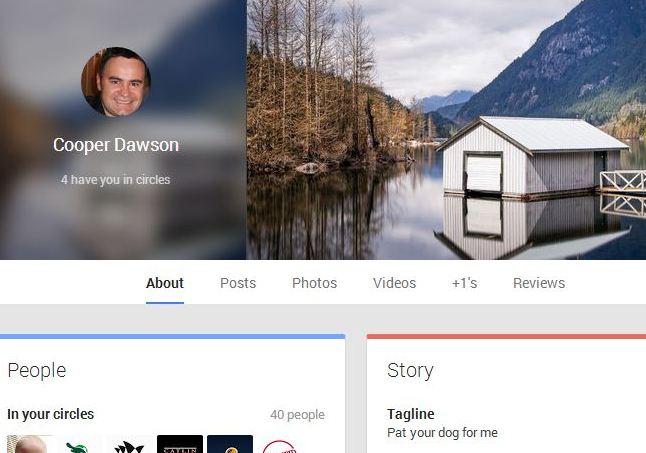 2. Select the tab that says "About" (as highlighted above). Here you will update all you want Google+ to know and show "about" you. Options are similar to Facebook, in that you can upload a profile image and a cover photo. Keep in mind, cover photo space on Google+ is very large so you should use a nice, clear, high resolution image (direct from digital camera, no resizing). When your image has finished uploading, crop, scale and save.
3. Ensure you're still in the "about" tab and select each section you need to update with your details. Simply click "edit" on each section to manipulate what is displayed (e.g. screen capture below).
Tagline and "about": Be as clever as you like, but it would be a good idea to include key words about you/your business if you are planning to utilise Google+ for networking. Here you can also set who sees this information (very similar to how Facebook operates). As someone who operates by the mantra, "Never post anything on the net you wouldn't want your boss or grandma to see", I leave my settings on public, as I use Google+ for business, promotion and networking, therefore do not include anything private in my profiles. This is up to you though.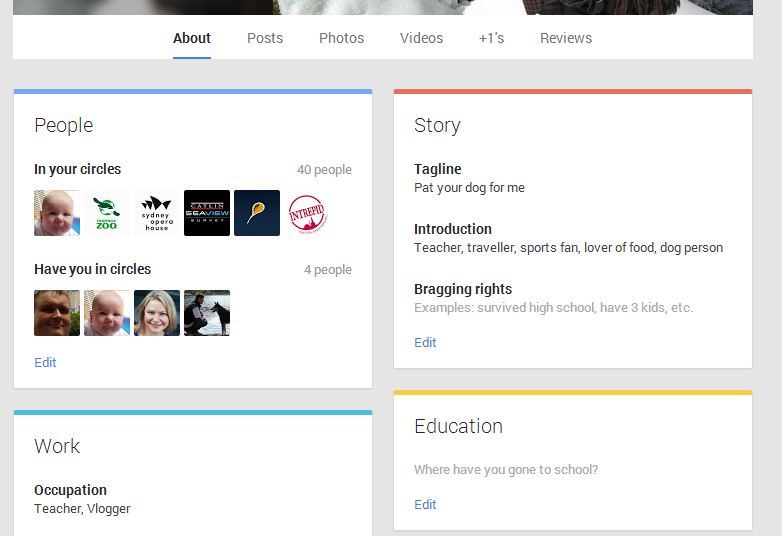 Navigate through the sections (i.e. "story", "work", "education", "places", "basic information", "contact", "links", screen captured above) and complete accordingly with as little or as much detail as you would be prepared to share (this will also vary depending on what you are aiming to use Google+ for, e.g. networking, friendships and so on).
As with all profiles however, never give too much precise detail about your age and address.
Note. The "Links" section (which will resemble the below image) is associated with Google Authorship (mentioned above), so ensure you link anything you are contributing to and/or responsible for, particularly your own website, blog or sites you regularly contribute content to.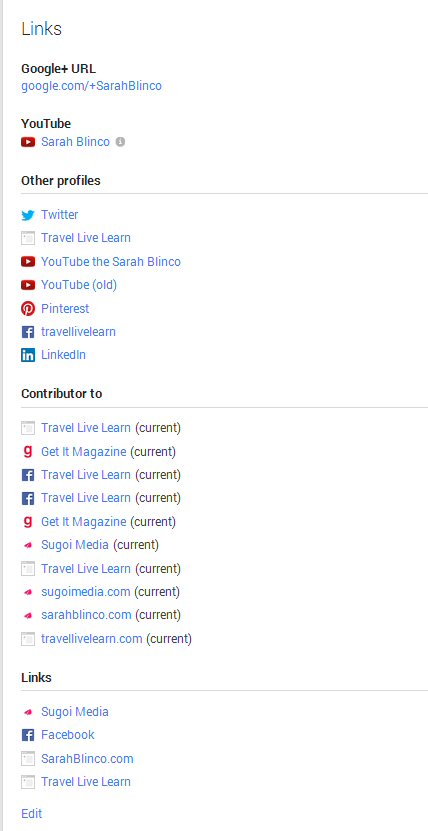 4. Once done editing each section, change from "View profile as Yourself" (pictured below) to "View profile as public" to ensure you are happy with the information presented, as this view is what everyone else sees when they view your profile. Check it, and if something isn't right or you're unhappy, go back to Profile and About, to edit and amend.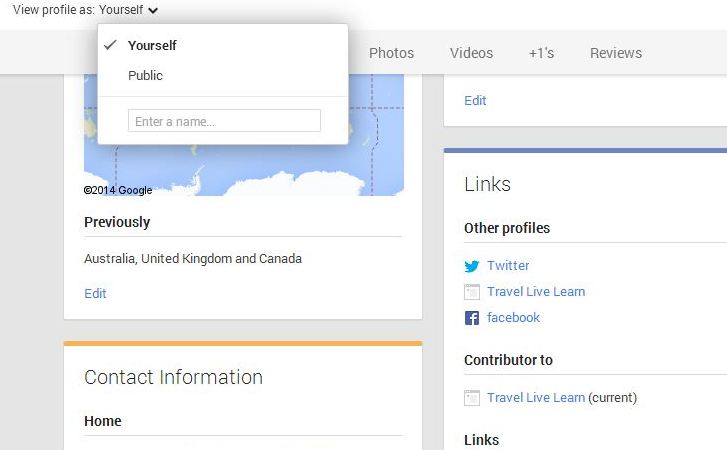 5. Slightly advanced: Further information regarding SEO optimisation of profiles and posts may be found in this informative post.
How to Google Plus for beginners 
Develop your circle of friends (aka "circles")
1. Go to People link (see screen capture below, option to the left).

2. Here Google+ offers suggestions on people you may know/want to add to your own circles. You can also have a look to see if anyone has already added you, and you can decide if you would like to add them back.
3. Take a look at "Your Circles" (highlighted below) initially and sort or delete anyone unnecessary; E.g. "featured on Google" circle may not be of interest, so you can delete immediately.

4. Let's create some circles: what kind of people will you be following? Perhaps you might divide them into:
Celebrities
Social Media influencers
Education (if you're a teacher, for example)
Media (if you're a journalist, for example)
Sport
Health & fitness
Entrepreneurs and inspiration
Travel
Friends
Family
5. Sort the people you're presently associated with into a relevant circle. You can drag and drop in the Your Circles screen OR you can hover mouse over person and select relevant circle to add them to.
6. If you require inspiration for who to add to circles (that is, who you could follow), click on one of your friends and go to their profile. Choose someone who is an active Google+ user, and have a look at their circles (example pictured below, "In her circles") because you're likely to discover friends, family and interesting people to follow based on who they have in their circles already. Remember, as you add more people, sort them into the relevant circles (categories) you've previously set up, and you can create new circles as needed.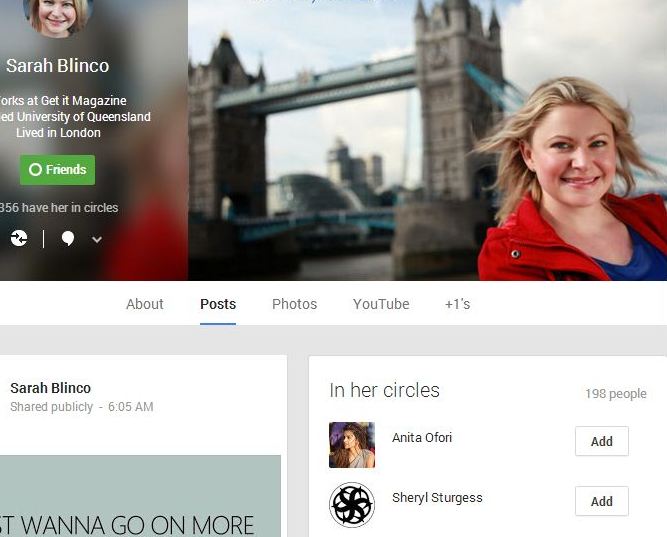 7. Alternatively, search for some of your favourite celebrities, sports stars, and others you look up to, and add them into your circles so you can keep up to date with what they have to share. Mouse over "follow" then scroll down to appropriate circle you've set up (e.g. "friends", as pictured below), and click the check box to add them to the circle.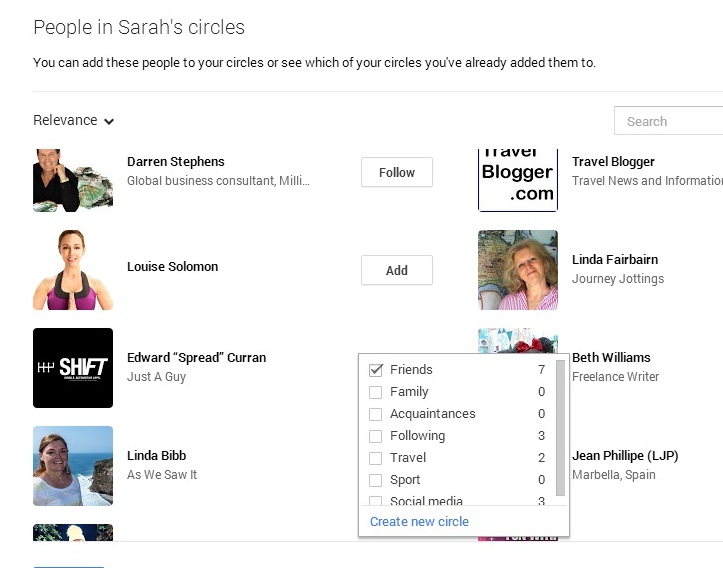 Note. You can add people to more than one circle. So, if you added Bill Gates, for example, he might be in your "entrepreneurs" circle and "technology" circle (depending on how you want to categorise people – this is entirely your choice and depends on what interests you have and what is important to you).
8.You can also search for people, posts and places using the search bar at the top of  the page (pictured below, just the same as any social media service).

How to Google Plus for beginners 

View your news stream to see what the people in your circles are sharing/posting
1. Select the Google+ icon, top left corner.
2. Go to "Home".
3. You will then see posts by everyone you have in your circles (i.e. who you are following).
4. A "+1" = "like".
5. Comment and share (like a "retweet" in Twitter) – remember to be "social".

Posting: tips
Keep it regular (daily), interesting, relevant and informative – people on Google+ are a bit more interested in professional and engaging banter than on Facebook which is now full of people's children, dogs, cats and updates about day to day living.
Maintain your branding across the board, that is, always use language, images and updates that positively represent you and your product/services.
Use hashtags (like on Twitter and Facebook) to add into conversations (e.g. #socialmedia #GoBroncos #cute #successtips).
Use @ to link to people in your circles (resulting in +Sarah Blinco being referenced in Cooper's first post pictured below).
You can edit or delete your posts by clicking the little arrow (pictured below).
Get involved – share, comment, post; as you move through the processes, Google+ will suggest groups you might like to join too.

Images: a tip
Unlike on Facebook, at this point in time (April 2014) you can't change an image when you add a web link; if you are not happy with the image that appears when you are posting an update that includes a link, get around it like this.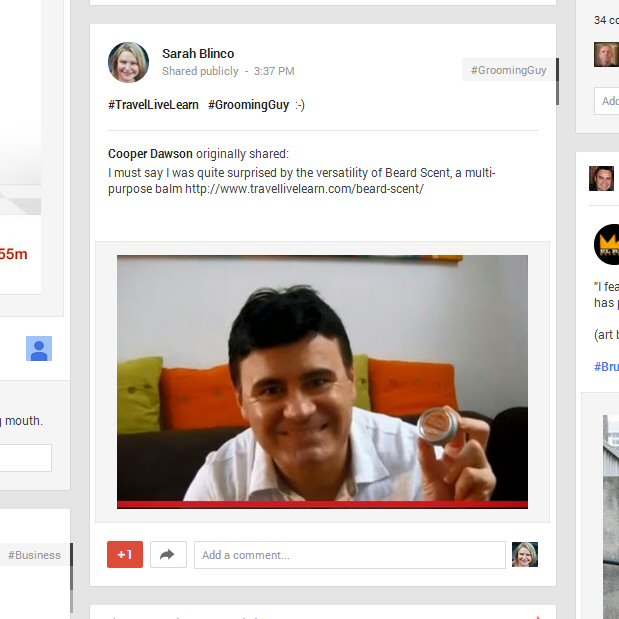 As per example above, Cooper wasn't satisfied with the image that appeared in the preview post when he shared his link initially, so he cancelled that post, screen captured a shot from his video review, then, he created a new post adding the image in first, and then put the copy and link for the update into the post box before hitting 'share'.
Featuring a large, nice image is important, because Google+ is a very visual stream, even more so than Facebook and Twitter, so ensure images are nice, clear and visually appealing.
Has anyone interacted with you? Checking notifications
Don't forget to check  up the top right hand corner of your screen to see if you have any personal notifications (that is, someone has liked, shared or commented on something you've contributed to online, or someone has added you to a circle of their own). Notiications look like this (or push notifications on your mobile app):
A note on custom URLs
You can set up your own custom URL, that is, e.g. Google.com/+YourName (rather than a long random string of numbers), but you can't do this until you have ten or more followers, your account is 30 days old or more and your profile must include an image.
Once you meet the requirements, to get your custom URL (details via Google support):
1. Sign in to Google+. Place your cursor in the top left corner for the Google + main menu and then click Profile.
2. Click the About tab, and under Links > Google+ URL, click Get URL.
3. You'll see the custom URL you've been approved for, which you aren't able to change. You may also need to add a few letters or numbers to make it unique to you.
4. Click the box next to "I agree to the Terms of Service" then click Change URL in the bottom left corner.
5. You may be asked to verify your account using your mobile phone number. To do this, you'll need to:
6. Enter your mobile phone number when prompted, then click Send code in the lower left corner.
7. Check your phone for the code that was sent to you.
8. Enter that code in the box on your screen, then click Verify in the lower left corner.
9. This URL will be linked to your Google+ Profile, so be sure everything is exactly the way you want it. Once your URL has been approved, you cannot request to change it. When you're certain, click Confirm choice.
Got a question, suggestion or tip? Let's discuss in the comments below. Would you like extra help? Contact me, I'm always to happy help, mentor and do what I can.
-Sarah Blinco.