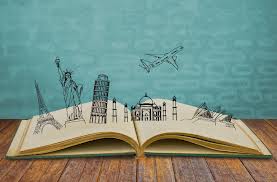 Does reading books encourage us to think of travel as exotic, adventurous, transformative, dangerous or educative?
A new release, Books and Travels, Inspiration, Quests and Transformation, by Dr Jennifer Laing from Monash University's Department of Management, and Associate Professor Warwick Frost from La Trobe University, critically analyses the inspirational and transformational role that books play in people's travel expectations.
The authors found that literature – more than any other medium – stimulated the imagination and created a desire to travel.
"The role of books in framing travel imaginings is an important social and cultural phenomenon," Dr Laing said. "We explored how reading books influences the way in which we understand travel and the tourist experience. It doesn't matter whether the books are historical fiction, children's books, westerns, science-fiction or crime fiction."
Most travellers were already culturally acclimatised by reading even before they set foot outside their own front doors. Reading can make the tourist experience seem more real, but it can also mean disappointment, if actual experiences don't live up to the expectations it creates.
"The shaping of our ideas about travel through books might be subtle, but it can have deep and long-lasting effects on the traveller," Dr Laing said. "Readers may seek places and adventures specifically featured in a story, or destinations connected with an author. Various tourist attractions have been developed to meet the needs of this segment, such as writers' birthplaces and homes, theme parks based on literary themes and places associated with books or authors. Though an important influence, this is only one way in which books influence tourists."
A reciprocal and symbiotic relationship is believed to exist between culture and tourism, with tourism described as an expression and experience of culture. The research illustrated the interplay between these two concepts, as well as the continuing power of the printed word over other forms of media in shaping the way in which we see the world. "Books often make a promise to the reader that if they travel, they too will have adventures and explore the world," Dr Laing said. "The immersive nature of books means they work differently to other media in encouraging ideas of escape, quests, exploration and personal transformation. In this era of computer games, social media and 'connectivity', books still retain a powerful role."
What do you think? Do books shape your expectations and goals for travel? Have you ever travelled to a place because you read about it in a story?